The Location


The town of Sooke lies 34 km west ( 21 miles ) from the city of Victoria, which is approximately 40 minutes driving time on Highway 14. Ferry time from Vancouver ( Tsawwassen ) to Sidney ( Schwartz Bay ) is approximately 90 minutes. Sidney is approximately 25 km ( 16 miles ) north of Victoria and approximately 40 minutes driving time to Victoria.

Regular, frequent ferry and high-speed catamaran service connects Vancouver Island, the jewel of the Pacific Northwest, to mainland BC and Washington state. The trip itself is a holiday as the ships weave a path past myriad forested islands. Marine life, including eagles, orca ( killer whales ) and seals, are often spotted.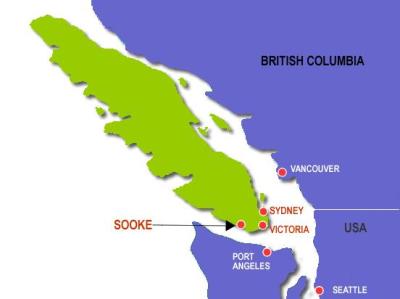 BC Ferries links the mainland with Vancouver Island and the Gulf Islands. Travel time between Tsawwassen ( Vancouver ) and Swartz Bay ( Victoria ) is 1 hour and 35 minutes.

Black Ball Transport ( M.V. Coho ) sails between Port Angeles, WA and downtown Victoria, BC in 1.5 hours. The Victoria Express, a passenger only ferry, travels between Port Angeles and Victoria in approximately one hour.

The Victoria Clipper leaves from both Seattle's Pier 69 and Victoria's Inner Harbour and travel times vary from 1.45 hours to 3 hours.

The Washington State Ferries operate during the summer and sail from Anacortes, WA to Sidney, BC with a travel time of 3 hours.

Victoria is known worldwide as a prime tourist destination for its visual beauty and charming atmosphere. Sooke and the surrounding landscape boasts unbeatable natural ammentities for outdoor activities and of course, incredible salmon and halibut fishing. Experience a D&D Fishing Charter - the best fishing charter that Vancouver Island has to offer!